In the midst of the recent developments due the double strike of SAG-AFTRA and Hollywood Writers, we reached out for the opinion of one of the most prominent members of the Greek American community, the Emmy awarded TV & Entertainment Producer and Manager, Christos Terzidis and asked him to share with us his opinion about the current situation and the future of those industries in US.
Christos Terzidis is a creative artistic manager that has decades of experience and his reputation precedes him, as he have been also involved in major international TV Productions like Olympic Games and Soccer World Cups. He has, so far, 3 Emmy Award Nominations and he was awarded with 2 Emmy Awards.
– Mr. Terzidis, can you share with us your opinion regarding the recent double strike in Hollywood?
It is obvious that those events have the magnitude to shape the future of both TV and Film Industry. I really do not like to take a stand for any opposite sides in cases like this but what I can say for sure is that the issues for which SAG-AFTRA and the Hollywood scriptwriters are on strike for are issues that have to be examined closely and be regulated.
Artificial Intelligence usage on creative world must be under specific regulations and used exclusively as a supporting tool and not as a creation vessel. The reason for that is not only, even though it is, the possibility of some talented and hard working people loosing their jobs but also where the quality standards in art must stand in the future. Because what art does, apart of entertain, is educate and help humanity evolve. Should we really leave that to tech advanced tools just for the sake of commercial profit? That is at stake here according to my subjective opinion.
On another note, the streaming services rights procedures obviously lack regulations and are may causing deprivation of necessary funds for people and artists of that industry. Funds that will not only help them survive financially but continue their important work.
– You have been part of several International productions that are considered to be the peak of TV World. Can you briefly share with us some of the most important milestones of your career so far?
Absolutely. I was honored to be part of 7 Olympic Games as member of TV Production and more specifically working with OBS (Olympic Broadcasting Company) the company the produces the initial TV material of Olympic Games that is distributed to the right holders and the main shareholder of this company is IOC (International Olympic Committee). My journey started back in 2004 in the Olympic Games of Athens where I was part of the Production team for the Opening and Closing Ceremony and Athletics. Since then I have worked in Winter Olympics in Torino 2006, Olympic Games of Beijing 2008, Olympic Games of Rio de Janeiro 2016 and Winter Olympic Games of Pyeong Chang 2018. My last project, with this company, was the Olympic Games of Tokyo where I was running the Production of the Golf Course and Paralympic Games.
I have the honor as well to collaborate with FS1 (Fox Sports) for the Production of their Remote Studios Shows on the Soccer World Cups of Russia 2018 and Qatar 2022 and the Women Soccer World Cup in France 2019.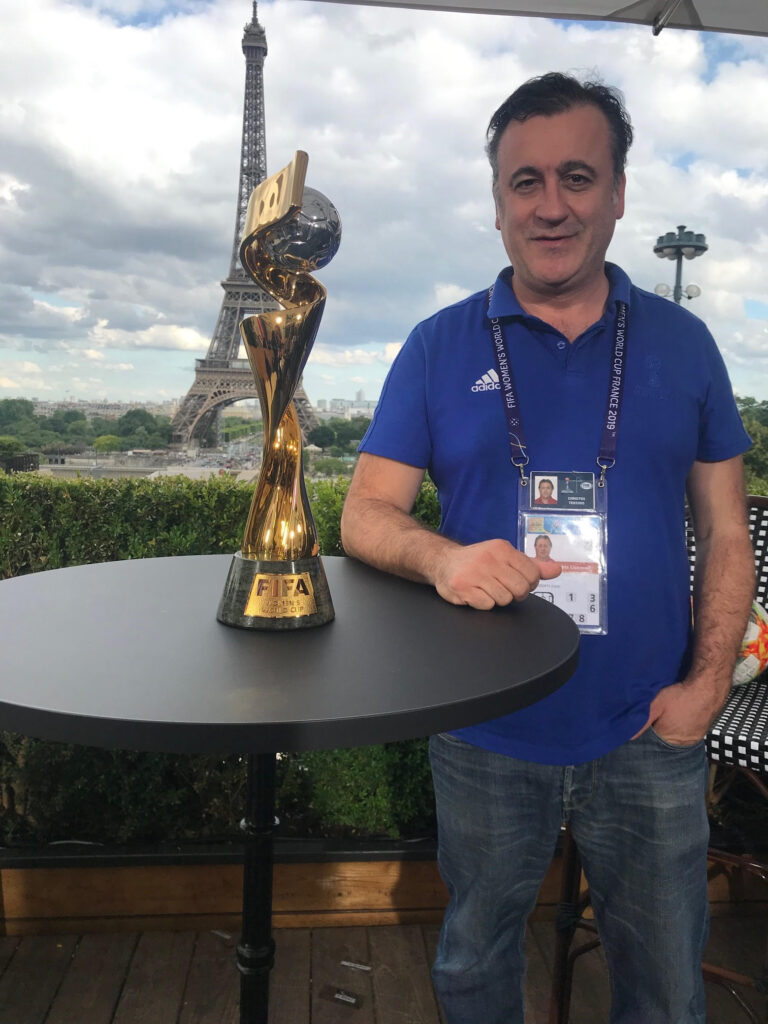 – You are known as a creative person and you have helped many artists and brands in the past to evolve their vision. Can you share with us how are you using those skills in the TV Production world?
Even though my main role in those productions is administration, logistical support and Technical Supervision, nevertheless the complete lack of knowledge of all the aspects of those productions could be – and I am not exaggerating – catastrophic. If you are not aware of the final product that the consumer/spectator receives and keep in mind that you are creating art, you will miss the main path to excellence.
My collaboration with the art department of those productions is crucial and due the fact that I have an excellent sense of art, hence I can support and fulfill their needs.
TV Productions are a teamwork sport and every member of a Production crew has to have a basic knowledge of all aspects of TV.
– You have had the highest honor to be nominated 3 times for an Emmy Award and be a Winner twice. Can you share with us the feeling?
I was nominated 3 times for the Productions I delivered with FS1 in Moscow, Paris and Doha for the Soccer World Cups – both Men and Women – and I have received the highest honor of being an Emmy Award Winner for Paris 2019 and Doha 2022.
It is the dream of any professional to be on the league of those who have received this honor. Same is for me. I was just humbled and I will carry the feeling that this honor has for the rest of my life.
Needless to say that this outcome came not only from my work but from all team's members efforts and therefore has a collective nature.
– Lastly, let us know how do you see the future of the industry?
As mentioned prior, all this upset that is taking place due the recent strikes will shape the future of TV and Film industry. As an optimist, I intend to hope for the best. It will be a rough and maybe long period, even after the end of those strikes, for the industry to bounce back but when it does, I am anticipating much better times.
By Panos Satzoglou